For the third time, at the beginning of the new academic year, Vilnius University Students' Representation invites University's community to a discussion festival – "Ad Astra". Inspired by ECSTRA project, one of the discussion – "What competencies a young person needs today?" – was dedicated to the importance of students' self-expression at university. During the debate, the speakers shared their university experiences and how they perceive the importance of extracurricular activities. Furthermore, students were also invited to the VU Contact Fair, where they had the opportunity to get acquainted with student organizations, leisure and sports clubs operating at Vilnius University and to participate in various workshops throughout the festival.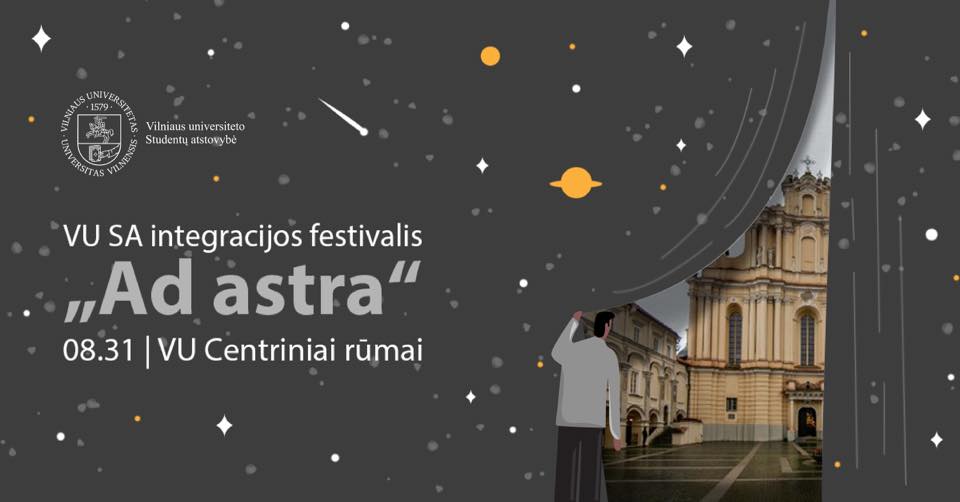 Studies are not just about scientific knowledge
Learning about the world in itself can take place through many practical methods. For example, the journalist Luka Lesauskaitė shared that for her, studies were not just books but also a platform that allowed her to learn about and experience history by joining the Lithuanian National Expedition. The Rector's Adviser, Paulius Gritėnas, remarked that lectures-seminars allow for the acquisition of knowledge, while extracurricular activities are an intellectual space where everyone can put into practice the knowledge one has acquired. Today, employers are often more interested in not what you have studied but how you have been able to apply it and what you have done with the knowledge you have acquired, as this allows them to really assess what you have taken away from your studies.
University is a platform for personal empowerment
In today's world, the competition in the job market is enormous, so it is important not to be afraid to stand out, which is what extra curriculum activities and combinations of them provide to students. By engaging in different activities, competencies are developed without a lot of self-pressure, naturally. University is a place where a young person's worldview is formed, new knowledge and skills are acquired. It is not a stepping stone to the workplace but a life in which learning and self-expression are inseparable!

Thank you for inspiring participants who shared their insights: Historian, head of communication of the Lithuanian Red Cross and presenter of the LRT radio show " Vardan tos" Luka Lesauskaitė, doctor of chemical sciences, winner of the "Dance your PhD 2022" competition and actor of the hand shadow theater "Budrugana Lietuva" Povilas Šimonis and VU rector's advisor, philosopher, publicist Paulius Gritėnas.

The discussion was moderated by chief specialist of the Non-formal education division Giedrė Ulytė.